YOUR THINKING!

Jeremiah 33:3 Amplified Bible.
Call to Me and I will answer you and show you great and mighty things, fenced in and hidden, which you do not know (do not distinguish and recognize, have knowledge of and understand).
James 5:16 Amplified Bible tells us:
Confess to one another therefore your faults (your slips, your false steps, your offenses, your sins) and pray [also] for one another, that you may be healed and restored [to a spiritual tone of mind and heart]. The earnest (heartfelt, continued) prayer of a righteous man makes tremendous power available [dynamic in its working].
Matthew 18:19 Expanded Bible (EXB)
"·Also [Again], I tell you that if two of you on earth agree about something ·and pray for it [L?for which you have asked], it will be done for you by my Father in heaven.
Mark 11:22-24 Amplified Bible (AMP)
And Jesus, replying, said to them, Have faith in God [constantly].
Truly I tell you, whoever says to this mountain, Be lifted up and thrown into the sea! and does not doubt at all in his heart but believes that what he says will take place, it will be done for him.
For this reason I am telling you, whatever you ask for in prayer, believe (trust and be confident) that it is granted to you, and you will [get it].
[Unrecognized Mode POST]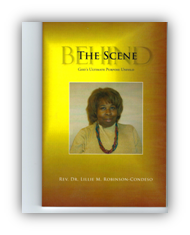 BOOK
"Behind The Scene, God's Ultimate
Purpose Unfold $

20 Donation
Special Blend Anointing Prayer Oil
Donation $30.00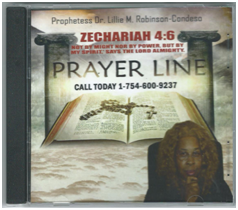 ORDER YOUR PRAYER CD

$50
You may Contact Rev. Dr. Lillie M. Robinson-Condeso D.D. for any of the above products.
305-917-5223 or 305-631-2108
All Networks » INNER THOUGHTS » YOUR THINKING!
Question, what are your thoughts on what is happening today in our world?
There are no replies.